Workshops e Outras Reuniões Científicas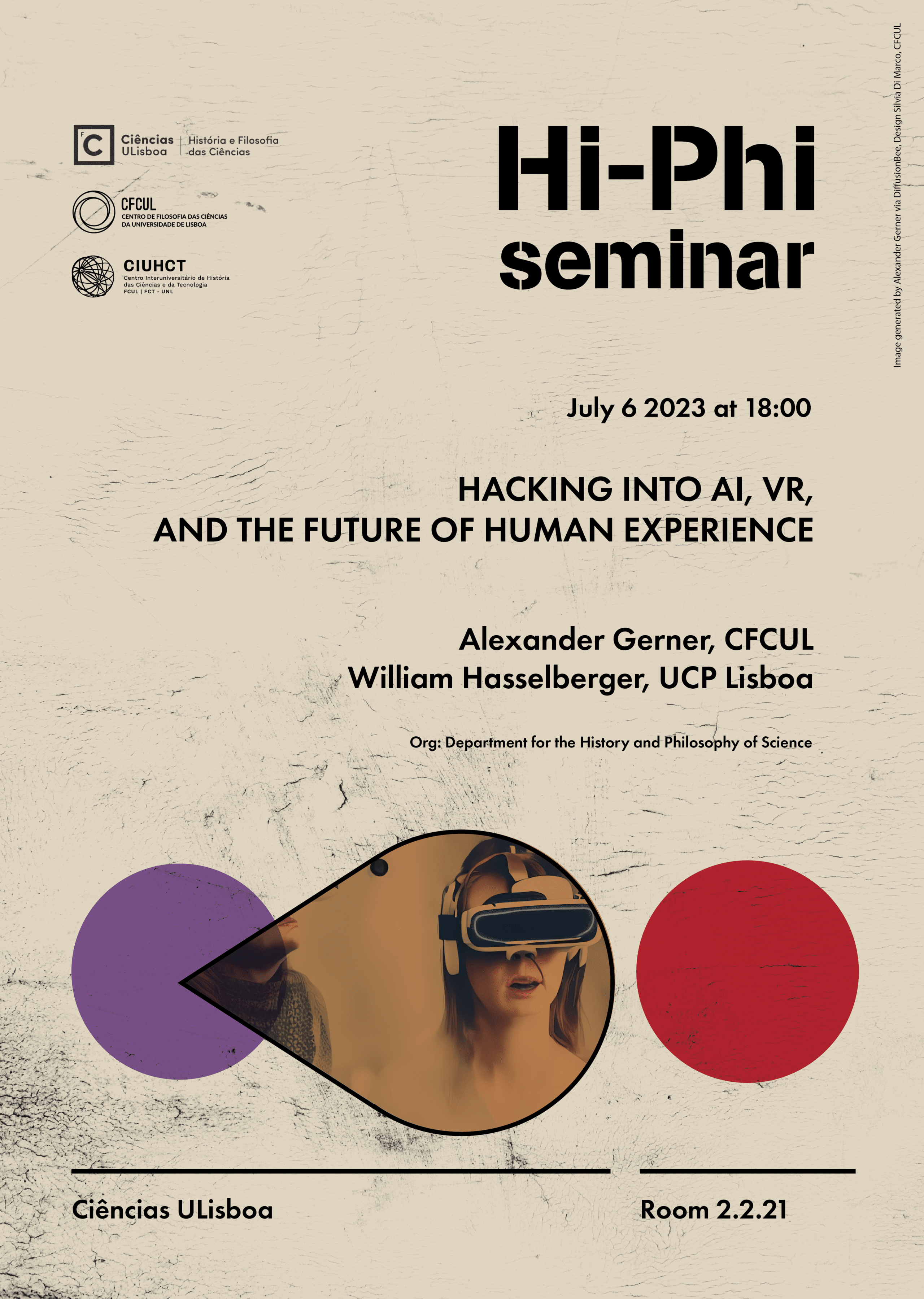 Hi-Phi Seminar: "Hacking into AI, VR, and the future of Human Experience"
06 / 07 / 2023, 18:00 - 19:00
Hi-Phi Seminar: "Hacking into AI, VR, and the future of Human Experience"
Oradores:
Alexander Gerner (CFCUL) & William Hasselberger (UCP Lisboa)
Organização:
Bruno Jacinto (CFCUL), Henrique Leitão (CIUHCT)
O seminário decorre de forma presencial: Sala 2.2.21, Edifício 2, Faculdade de Ciências
Alexander Gerner (PhD in History and Philosophy of Science) is a playwright and researcher in philosophy of science and technology at the Faculty of Sciences of the University of Lisbon. He holds a PhD in History and Philosophy of Science (Faculty of Sciences, University of Lisbon 2012) where he is Head of the Research Group RG3- Philosophy of Technology, Human Sciences Art and Society at the Centre for Philosophy of Sciences, University of Lisbon (CFCUL). Gerner teaches, among others in "History and Philosophy of Technology" and "Computer and Society" at FCUL. At the moment he is writing a book on digital doubles, synthetic media and aesthetic, political and ethical impact of AI Avatars. He investigates human technology, social resonance, ethics and AI aesthetics in a critical approach to algorithmic rationalities in his research project Hacking Humans. Dramaturgies and Technologies to become other.
William Hasselberger (PhD, Philosophy, University of Virginia) is an Associate Professor in the Institute for Political Studies (IEP) of the Catholic University of Portugal (UCP), and the Director of the UCP Digital Ethics Laboratory (LED), a center for advanced study of the social and ethical implications of emerging technologies.  William is also a Visiting Fellow at the Institute for Advanced Studies in Culture at the University of Virginia, USA.  William's research crosses various topics and disciplines, including ethics, moral psychology, theories of happiness and well-being, Artificial Intelligence (AI), and human-technology relations.  His work has appeared in journals such as Social Research, The European Journal of Philosophy, Philosophy, The Pacific Philosophical Quarterly, The New Atlantis, and Culture, Medicine and Psychiatry.